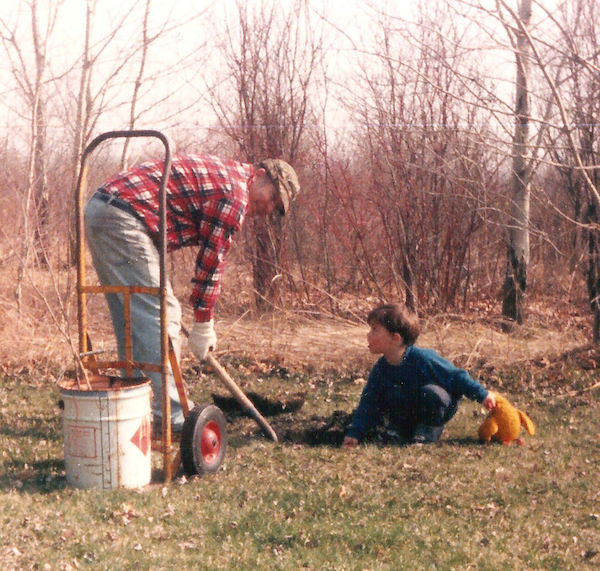 I've been working here for 30 years.
Welcome to the online home of the Puckaway Motor Club! The PMC, it should be mentioned, doesn't really exist. Not in any official capacity, that is. We are simply a collection of men who have chosen some marshland as an annual gathering place.
I'm trying my hand at ground-up web design, so that's why everything looks so bad. This site will be as much of a test bed for CSS-based adaptive web design as it will be a showcase of Puckaway projects and history. I'm working on bringing in a CMS on my own terms. Until then, all these entries will be done by hand.
I would imagine that most visitors to this site are here because I told them about it. On the off-chance that you've read this domain name on a car window sticker and were just curious, here's a quick primer.
What's Puckaway?
My grandpa bought a 16-acre plot of farm and marshland south of Princeton, WI in the 1970s. He was a sportsman and his interest in the property was as hunting land. He also liked the proximity to Puckaway Lake; there's a boat landing just down the road. He owned other recreational properties as well, so our family never refered to this place as "the cottage" or "deer camp" or anything like that. It was easier to use "Puckaway" as shorthand. It has since stuck.
Who are you?
My name is Jeff. Speaking for the club, we are a group of friends who've scattered across the state and country. It doesn't make sense to gather in a college town anymore. And most of us have families, upon whom we'd probably rather not inflict each other. We needed some neutral ground, and Puckaway was there.
What makes you a motor club?
Nothing. Absolutely nothing. I liked the idea of "branding" our cars, trucks, ATVs, boats, and whatnot with some sort of common logo. That sounded like something a motor club would do, so the function begat the name. It also fits into the whole WPA poster theme thing I'm going for.
What's with the owl?
When I was a little kid, my grandpa and I used to "call in" the owls. Sometimes it worked, and you'd hear them call back. I loved it, and it was something special that he and I did together. After he passed away, I took a lot of comfort from hearing owl calls, especially at Puckway. It just made sense as a logo.
So what is this site? Is it your drinking club's Facebook page or a history of your family property?
It's both! And a project log. Becaue why not? That's the magic of the internet.